Wedding Venue Spotlight: The Hacienda, Santa Ana
Today I sat down for an interview with Christin and Art of The Hacienda to discuss the features of their venue and how they can help you out on your wedding day.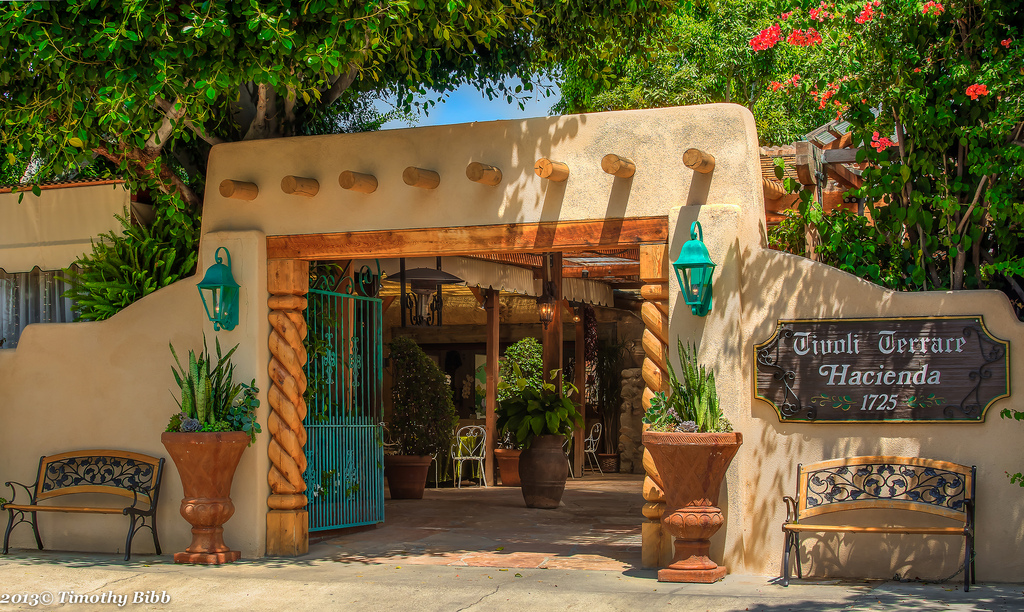 What common mistakes do you see couples making during the wedding planning process?
Doing too much for everybody else, not keeping the wedding and the celebration about the two of them. A lot of people-pleasing. You want to stay true to the celebration of the two of you. For example, the problem could be inviting too many guests because parents want certain people there, and then they're having to meet people for the first time at their own wedding.
Whoever is paying for the wedding can have a huge influence on the outcome. It's like "I'm giving you money and now we're gonna do things my way." and it's hard because the Bride and Groom take that into consideration and you sometimes see it veer off and become bigger than what they wanted.
Another mistake couples make is not picking the right professionals, and you see a lot of the time couples saying "Oh, my friend's a DJ…" and unless they are actually a wedding professional, you see it go awry. There are no professional announcements and the "professional" feels that they can be more casual, which is fine if the situation presents itself that way. But, if it's an actual formal wedding, you do need certain aspects to be handled.
Another mistake is having photographers that leave early. It rushes things and brings about situations like half of the guests didn't get table greeted because the couple stopped to go cut the cake. I understand that couples are booking an allotted time, but I wish there was a little bit of a "grace period", a little buffer, that some wedding pros would allow their clients. You want to make sure that every vendor you have for your wedding is there FOR YOU.
Know your budget and set your budget. There are a lot of ways of doing things within your budget, and your planner can help you do things within your budget. The great thing about The Hacienda is that we include so many things: The cake, food and drinks (beer, wine, champagne), centerpieces and coordination. At The Hacienda it's such an inclusive package that you don't have to worry about much. You can focus on the personal things that really make the wedding about the couple. They can still put their own stamp on their wedding, but not have to get all the rentals, bakery, and the flowers…
Some couples decide to bring in some of their own rentals, and that makes it that much more their own. It's pretty awesome that free flowing beer, wine, and champagne are included. You don't really see that anywhere else. The owner of The Hacienda, June Neptune, has been in the business of hosting weddings for a very long time and has it down to a "T". She knows what to include to make their clients happy. Especially here at The Hacienda, the staff has been here for so many years, there's a great camaraderie of making each event awesome. We really pride ourselves on our work and I feel that there's a good, solid, team so you don't have to worry about  providing your own planner or rentals. There's a lot of places that say they include wedding day coordination now for an extra $600-$800, but then they still won't do everything the way, I feel, that The Hacienda does.
What's the best tip you have for a couple planning a wedding at The Hacienda?
If you stay true to yourself, then you'll have an event that you will always remember and enjoy. I think a great coordinator can make a big difference, because they are able to guide you with vendors and get you organized.
Do whatever you want to do, don't let other people tell you what to do. It's your wedding!
What don't couples know about The Hacienda that they need to know?
The Hacienda is not a ballroom, so I think there is a uniqueness about the property that is missing in a lot of country clubs or hotels. It's such a beautiful venue, especially when you walk inside, you're like "Where am I?"…It's definitely a hidden gem. Couples are more blown away when they actually come see the property and realize the potential that it has. And there's history here.
We are all-inclusive which you don't see most places. Many venues will charge a rental fee for everything from chairs to linens, and the list goes on. The Hacienda includes everything you need for you wedding besides photographer, DJ, Officiant, and personal flowers. Those are the things which are more personal to the couple to make their event unique to themselves.
What questions should couples be asking you about your services that they don't know to ask?
It's so hard to compare venues and what they include. It's not apples to apples, it's an apples to cucumbers type of a thing. Most places have extra fees, so what exactly are those fees? Knowing all the costs up front is important. For us, we are able to give them a quote based on their estimated guest count. There are a few different upgrades if they want, but we're not going to come at you with a bartender fee, a cake cutting fee, parking fee, all those things which can add up quickly.
What's the most unusual or memorable wedding you ever saw at The Hacienda?
We've had the fairy-tale Princess Disney weddings… We had a Halloween wedding 6-7 years ago and the couple loved horror movies. They put out these centerpieces and I couldn't even look at them – I thought I was going to have nightmares! We see all kinds of stuff. They're all different, it's not like the same thing over and over.
There are weddings that are memorable to me for different reasons. I love it when they have really personal vows. I get chills listening to them say their vows to each other. Again, it's things that they do to showcase their own personalities. Little things, whether it's their favors or ways they show appreciation to their families or people that supported them. It's always a great thing to see in speeches with family members that are emotional and heartfelt.
During a recent wedding, the groom toasted his bride by saying that he always dreamed of going to/living in Rhode Island. He didn't realize his dream would actually lead him to meet his wife in Rhode Island and that meeting her was his real life long dream.
We had a wedding 2 years ago that during their first dance the groom surprised the bride with a song that he had recorded and wrote for her. She was shocked and in tears. It's the things like that I still remember today.