Featured Wedding Vendor Spotlight: Dapper Events by Lizzy Liz
Today I sat down for an interview with Liz Chan of Dapper Events by Lizzy Liz to discuss wedding planning, coordination, and how she can help you out on your wedding day.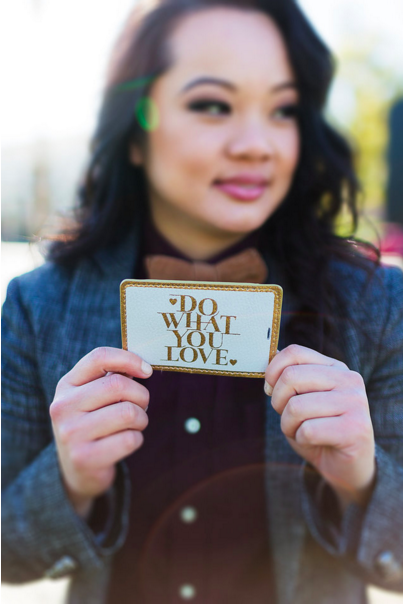 Lizzy Liz Chan is known as the dapper chick event planner of OC. You'll see her rocking her suspenders, colorful bowties and wingtip oxfords. Her type-A and colorful personality reflects her desire and passion to make her clients feel at ease, welcomed and confident in creating a seamless experience. Lizzy Liz will educate, guide and create your artistic vision with every step of the way.
With over a decade of experience in special events management, Lizzy Liz inspires, plans, coordinates and designs with seasoned expertise. With dapper events by Lizzy Liz, she will customize a step-by-step plan to make sure that event planning will be enjoyable and stress free. With the years of experience, Lizzy Liz has contributed to a style that is unique, classic, and modern with a touch of what she calls "dapperLIZious".
What common mistakes do you see couples making during the wedding planning process?
Miscommunication or not communicating at all. Most of the time the Groom isn't heavily involved in the planning portion or not the main decision maker of the wedding. When the day comes, it becomes an overwhelming experience because they had no idea what has been planned for the last 9 to 14 months. They walk into a blush pink room, assorted dessert stations, party favors that he didn't imagine to be and surprise dance performers.   A wedding day's schedule can be hectic. It's very common that you don't even eat on your wedding day because you have to complete so many events. For example, grand entrance, immediately followed by first dance, then some speeches, finally dinner…but when you're eating, everyone is coming up to you, and asking to take photos with you, next thing you know it, it's time to dance with your parents, then it's time for your maid of honor and best man speech, and then now it's time to greet the tables…
And one thought…when am I going to eat?
Next is cake cutting…that small bite of cake was all you got to eat at your wedding!
Then bouquet and garter toss. Then dancing. Sigh. The struggle is real.
What's the best tip you have for a couple planning a wedding?
Two things.
Hire a wedding professional. Your friend who does it on the side is not always the best choice. One time, a client hired their friends to DJ. The worst had happened…the speakers blew. Guess what? They didn't have any extra speakers to replace or even have in inventory. The wedding ended an hour and half early because there was no music to dance to.
I know DIY projects are very popular. We all want to have customized things, made with love but all the hours you spent making them can be more stressful than ever. All the intricate details, purchasing all the supplies that you don't own, all the hours you put into it is actually costing you more than you purchasing it through websites like Etsy.
Hire a wedding planner and wedding professionals. Your Best friend, Bridesmaid, or Cousin should be able to eat, drink and watch you get married. All vendors can tailor any package for clients to better service them. Always ask questions, meet your vendors at least twice to get a better idea of who they are, and be up front of how you feel.
What don't couples know about Wedding Planning that they need to know?
You need to hire a planner! As much as you want to do it yourself, at least hire yourself a day of wedding planner who will assist you in all you need. You planned all of these months, it's time for you to enjoy your masterpiece. You deserve to be the relaxed, approachable and stress-free bride. You can't be setting up programs, menu cards, table numbers or lighting candles in your wedding dress. Your stress will show in photos! You have no idea what can happen during your wedding! The craziest things do happen; you just don't know it because we don't tell you. We put out the fires before it can burst into flames.
Wedding planners and coordinators are not just clipboard holders who points and directs during a wedding. It may look like that…but we have so many roles as a planner/coordinator. We wear so many hats. We are there to tie up the loose ends. Every planner has a tool box with all the essentials: hot glue gun, curling iron, first aid kit, sewing kit, black duct tape, scissors…the list goes on. When a photographer realizes that their flash is dead, who has batteries…not the one that always needs batteries…but the coordinator has it in her emergency bag. When the DJ or MC forgets their timelines at home, the coordinator has an extra copy to spare. We are always behind the scenes, and we go above and beyond without the clients ever knowing what we have executed and had to deal with. Being stressed, crying in the inside, trying to find the perfect solution, being pressured by the clients, parents, in laws, dealing with drunk guests, trying to explain to guests that they should have ordered their vegetarian meal prior to attending the wedding, trying to find a seat for guests who didn't RSVP, trying to push the schedule back on time, making sure vendors are on the same page, trying to forget that you haven't eaten since you got to the venue since 10 am and all with a smile on our face.
What questions should couples be asking you about your services that they don't know to ask?
In general, they should ask every vendor, how long they have been doing it, how many events they have done, how they troubleshoot certain situations that arise, and ask them if they can meet your visions, wants and needs.
What's the most unusual or memorable wedding you ever did?
I think every wedding is memorable. I love hearing how they fall in love. My recent couple who got married in January was seriously based out of a movie scene. They had been friends for over 10 years. They both lived separate lives, even in different cities and states, they both got married, had kids, and divorced their significant others. They recently reconnected and had a business dinner. After a few too many drinks, he confessed his love for her all these years. She was surprised because she never saw it coming. She expressed to him what kind of man and relationship she wanted. He said that he was that man. So he instantly proposed to her.. "Marry me!" She thought he was joking again. This is so unreal. Two weeks passed, and a ring was presented. She thought this was crazy but this moment with him never felt so right, she said yes and they had a beautiful wedding surrounded by close friends and family.
Do you have any other reasons that engaged couples should book your services for their wedding? What makes you stand out from your competition?
I've been so fortunate to have worked for a company that exposed me and trained me in catering, florals and design, planning and coordinating. I have picked up on arts and crafts and perfecting the art of calligraphy. I am collaborating with a company that specializes in AV, so learning the importance of lighting and engineering of lights has opened a whole new world of design for me. Up lights, pattern lighting, intelligent lighting…all the programming that goes into it has been a mind blown moment.
I have an agreement with my clients that they need to have an open communication with me. I'm a very direct, black and white person. I dislike grey areas, I am not a mind reader (that would be amazing and make my world so much better), I want to hear it even if it's bad. It just makes our relationship stronger. I want to know what you like and don't like. I'm like your big sister, your over protecting Aunt, your maid of honor, a person who will stand up for you. I will be that person that sends home the guest who wore white to your wedding, escort the drunk guests who's throwing up under the table, and also the person who re-curls your hair when your hair is getting flat, tells you that you have lipstick on your teeth, safety pins your train when your bustle breaks after so many people have stepped on it, and make sure I am by your side to execute any of your requests the night of. Because trust me, no matter how much you have planned for this wedding, unplanned things happens. Always remember to move forward quickly, don't get mad at something/someone and let it ruin your whole night…just have fun! Trust me, no one knew that the white flowers were suppose to be ivory, that the cake flavor was suppose to be chocolate and not berries and cream, and that you forgot your garter at home. People are there for one thing, and it's you. Cheers! Go eat, drink and be married!